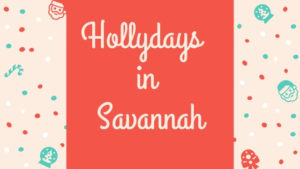 Holiday events in Savannah are here! Broughton Street is twinkling in lights, the city squares are decked in red ribbons and pine boughs, and the city Christmas tree is looking radiant at the intersection of Bull and Broughton. Time to book a trip to Savannah!
Many of our guests at Savannah Luxury Rentals are always curious to know… what's going on this weekend in Savannah? There are many great resources for local event calendars to be sure. However, for simplicity's sake, I like to point our guests to one in particular:
Visit Savannah – Visit Savannah is the city's own Convention and Visitors Bureau, and they do a phenomenal job attracting visitors from around the world to come to come to our fair city and sample its charms. Visit Savannah also keeps one of the best official event and "Things to Do" calendars in the region on their website. Now that we are in the holiday season, they have created Savannah Holly Days – a specific page listing nearly all holiday-related events in Savannah.
Many thanks to the amazing staff of Visit Savannah for their great and never-ending work introducing the Hostess City to the world. And a special thanks for putting together such a great resource of events for visitors and locals alike to keep up to speed with all our many goings on.
Happy Holidays!
M